Hemp/Lime Building
There are people who love the idea of using a hemp/lime mix to build houses. There are also people not so fond of the concept.
I spoke to one man who decided that he would use the age old method after much research into the building style and its benefits.
"I figured that I was only going to build a house for myself once so why not do something different that I could be proud of."
The frame of his home was built using timber. Much the same as you would see in most standard timber frame units.
The major differance came in how the walls were finished and filled.
In place of standard insulation, the hemp/lime mix was loaded into the timber frame. Each side of the frame was covered in temporary sheets of ply to allow the mix to be loaded into place. This was done in sections to allow for setting. You can see this in the pictures below.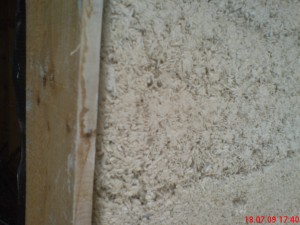 To avoid the arguments between eco warrior and cost effective warriors I have a simple outline below of some of the key benefits of this type of building material.
Benefits as a construction material
It is an effective form of insulation
It is hygroscopic
When set, it can be as strong as concrete
It is a proven & widely used construction material – just not yet in Ireland
Can aid a buildings ability to self regulate temperature when designed to do so
Contains fire resistant properties
Contains vermin resistant properties
Allows for untreated timber sub frames as its properties protect the timber itself
Benefits on the green/eco side
It acts as a carbon store
It is far greener to produce than most other building materials