In Brief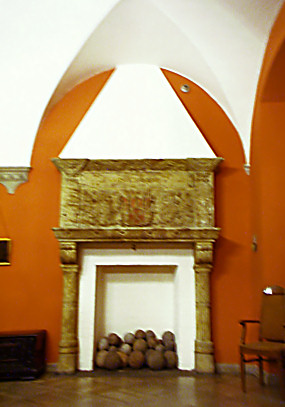 In days gone by, every home relied heavily on the good old fireplace. You could throw in the sod of turf,  half a bale of briquettes, cut logs and coal. The smoke would often fill the room when someone opened a door too fast but it was cosy. "Isn't the open fire great", or "It's lovely and cosy", are famous terms used to describe the good old open fire. More often than not though nowadays these phrases are followed by, "It's an awful shame so much heat is lost up the chimney!"
How much heat is lost up the chimney?
It is believed that up to 80 to 85% of the heat in a room can be lost through an open fireplace. Better still imagine how much heat you could harness if you contained it properly. So what solutions are out there? For an unlit fire a chimney balloon will reduce the flow of air, help reduce outside noise, prevent bird mess and soot from landing in your grate. A damper at the top of the chimney will do a similar job. Dampers can be adjustable to open in event of lighting a fire or closed the remainder of the time.
Light my Fire !
For a lit fire however there are more substantial solutions. Ones which help to massively increase the efficiency of your fireplace.
A special grate designed to throw heat out into the room can increase the efficiency of the fireplace. They will still loose a lot of heat up the chimney but you will take advantage of far more heat from an open fire.
A fireplace mounted enclosed burning box. These mimic the normal operation of a stove but can be fitted into a fireplace with enough depth, width and height to hold one. Depending on the model and design they can massively increase the return in heat you get from your bag of coal or bale of briquettes. Some will only allow specific solid fuels to be burned but this is make and model dependent. They also have the advantage of preventing the unhealthy spillage of smoke into the room when a door is opened or a window or even a bad gust of wind down the chimney. When the fire is not lit they reduce the flow of air as the chimney space is blocked by the unit itself.
Seal the chimney for good and install a bio ethanol fire.
A bio ethanol fire will give the beautiful look of a naked flame without smoke and resolve the draught and noise issues associated with having a chimney on an open fire. Its by products are carbon dioxide and steam while it burns. This means that if a room is sufficiently ventilated with fresh air coming in, the fire can be lit and allowed to burn and radiate its heat directly into the room itself. Many suppliers of bio-ethanol fireplaces boast no connection hoses, tanks, chimney, flue so you can place a bio-ethanol fireplace almost anywhere. They also have some aesthetically beautiful, open fireplace designs.