In homes built in Ireland in the 70s and 80s, it was normal to have a circuit of hot water heating all radiators and the cylinder in the "hot press". An oil burner of one type or another was the predominant method of heating the system. It was such an effective method that it has remained a choice for many up to now, with only a few changes. The most notable change has been the introduction of zones.
Zoned Heating
Building regulations over time have introduced that the cylinder became one zone and the radiators, another. This means that you can allow either the radiators or the cylinder, to be heated by the boiler, or both. To increase the effectiveness of this concept and reduce fuel bills the radiator system has further been modified to split the main living areas and the sleeping areas into separate zones. This makes sense because when maximum heating requirements are present from October to March a home can be heated in only the rooms required at different times of the day.
Fully Programmable Zones
It is a popular choice for fuel conscious home owners to set-up their heating demands with a system that allows each zone to operate on a pre-set schedule. The following is an example of how such a system could be set up.
Hot water cylinder on at 5am for showers and cleaning in the morning followed by living area and sleeping area rads coming online at 6.30 to 8.30 while people are up getting ready for school/work etc. All systems could be off until 5.30pm when the living areas would re-heat as required until 8-9pm and the sleeping quarters would kick in at this point. For those living in a house with a system from the days before heat zones became mandatory all of this sounds like a fantastic idea.
The good news is that top end efficient zoning can be applied to most buildings long after the building has been built and inhabited. From Accommodation Guest Houses, Hotels, Nursing Homes and Hospitals to an old terrace house in a city center, all of this is an achievable and for the most part with very little fuss.
A fully set out modern home can be set to 24 hour digital controls with 7 day programmable abilities on its existing system with often only minor intrusion from trades people. Depending on the set up a plumber and electrician may be necessary or in some cases an electrician may just need to change the control timer on the existing system.
An older home from the 1980s or before can also receive the deluxe treatment.
Each individual room can be assigned a radiator or underfloor control unit to switch it on and off. Each room would also have a thermostat on the wall to monitor and control the room temperature. Each room could have a simple control panel as part of the thermostat so that a person in the room could raise, lower, switch on or off the heat for the room.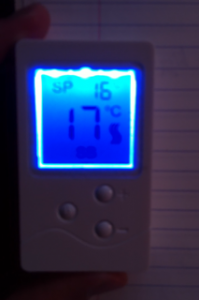 The picture shows a wall thermostat, it is displaying the current temperature at 17 degrees Celsius. It also has three buttons. They can raise or lower the temperature required for the room. There is also an on/off button. This allows a person to activate the heating for the room while they are in it and shut it off when they are leaving
This unit is only a tiny part of the whole system. If a user turns on the heat in the room and forgets to turn it off this thermostat will shut off the heat after a preprogrammed time e.g. one hour.
The reason for this is that the main control panel, much like a house alarm access panel, will operate all long term settings for the house. The individual room controls are a convenience, at you finger tips for instant control but not a program changing feature of the system.
A full house program in winter may work as follows:
Kitchen:                               on 7 days 8am to 9am, on Mon-Fri 5.30pm to 8.30pm, Sat+Sun 1pm to 10pm ALL AT MAX 19 DEGREES
Dining Room:                    on Mon-Fri 5.30pm to 10pm, Sat+Sun 1pm to 10pm ALL AT MAX 19 DEGREES
Parents Bed Room:           on 7 days 7am to 8am and 9pm to 10pm ALL AT MAX 17 DEGREES
Infants Bed room:             on 7 days 5.30pm to 8am MAX 22 DEGREES (Note system will only run to maintain 22 degrees and will shut off when not required to save fuel)
20yr old Students Room: on Friday 8pm to 10pm on Saturday 8am to 11am and 8pm to 10pm, on Sunday 8am to 11am ALL MAX 20 DEGREES (Student away during week and can control temp while in room at weekends)
Bathroom: On Kitchen:   on 7 days 8am to 9am, on Mon-Fri 5.30pm to 8.30pm ALL AT MAX 17 DEGREES
The heating system will direct heat to a room and will close the automatic radiator valve when not required. When all rooms achieve the temperature set to them all radiators will close off and the boiler will shut down until called upon again and only heat for the necessary room(s) will be provided.
When a heating control system is installed in an old home without zone controls it can have a massive impact on fuel wasted if set up properly, therefore the upgraded system will cover its cost in a respectable time. In a modern home with three or four zones the pay back may be longer but none the less in many cases effective.
It is recommended that before taking on any such work the advice of professionals in the field be called upon to give their view of the individual building's requirements. A specialist heating controls company, plumbing specialist, etc would be a good port of call.